Dear Readers,
The California State Library Foundation seeks to raise funds to design and build two display cases to house and preserve historic Pony Express artifacts, including two bronze statues, a rare mochila replica, and other rare items from the Pony Express's brief, but colorful moment in history.  This collection was recently donated by Joseph Nardone, master historian of the Pony Express.
The cases will house and protect several things including an original 1858 Pony Express Bible (one was given to each rider and less than 11 are known to exist); a large ½ scale Pony Express bronze statue by noted artist Avard Fairbanks; several rare Pony Express gold medallions commemorating key anniversaries; 1861 stamps for Pony Express letters; 1863-1865 stamps for Pony Express letters from Virginia City to San Francisco; and two limited edition Pony Express belt buckles, and a very rare replica Pony Express saddle, mochila, and saddle stand.
To date, we have received private pledges to commission the construction of two custom-made exhibit cases to display several of the artifacts Mr. Nardone has donated to the Foundation for the benefit of the State Library. Our first pledge came from Foundation President, Kenneth Noack, Jr. In addition, several of Mr. Nardone's friends have pledged funds. All contributions are tax deductible. However, we are still $6,000.00 from meeting the construction estimate. Any amount is greatly appreciated, and your contribution will be acknowledged in an upcoming issue of the Foundation Bulletin.  
To donate, visit our membership/contribution page and enter "Pony Express" in the field to the right of your Donor Designated amount.  Contributors can be assured that their donations to this project will not be redirected to other programs.
Mr. Nardone also plans to donate his incredible library of rare books, pamphlets, maps, and research material devoted to the story of this famous but short-lived chapter in our transportation and communication history. Mr. Nardone, a resident of Laguna Hills, has spent decades doing research in the Library's California History Room and considers the State Library his favorite research library. This collection, officially titled the Joseph Nardone Memori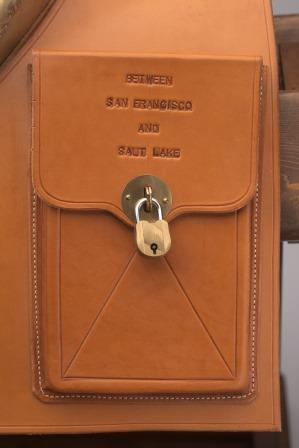 al Pony Express Research Library, will draw visitors to Sacramento and highlight the city's role as terminus for the Pony Express.
Our ultimate goal with this project is to engage a broader national and global audience for this brief but dynamic moment in California's history, to share the excitement of this new collection, and to making it accessible to audiences for generations to come. The cases will protect the items from every day, damaging impacts of light and temperature. Once the items are digitized and placed on the library's website, the cases will ensure their protection against over-handling in the future.
If you are able to donate and live in Northern California in the Bay Area or greater Sacramento Metropolitan area, the Foundation invites you to join in the library's celebration of the Pony Express early April 2017, to help mark the April 3, 1860 start date of the first Westbound trip from St. Joseph to San Francisco.