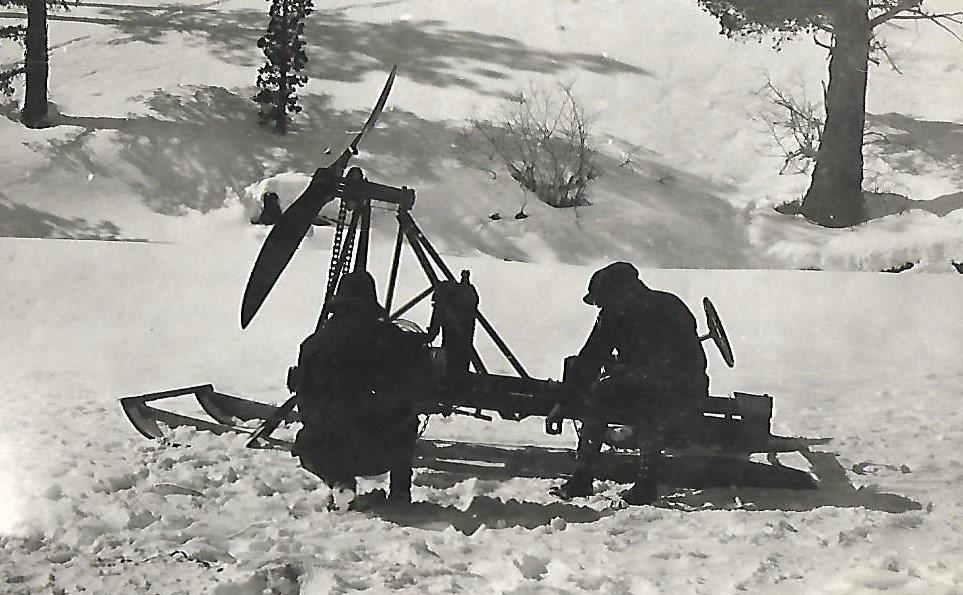 A Propeller-driven Snow Mobile
Among the many items acquired by the Foundation on behalf of the Library's California History Section is an album of 62 original photographs documenting the construction of the Rush Creek Hydroelectric Project in Mono County, 1913––1923. Found in the album is a group of four images of a power "snow sled" built by Billy Young at Rush Creek in 1918. Unlike our usual image of a snowmobile, this vehicle is powered by a large propeller affixed to the rear of the vehicle. One can only imagine the noise level and the clouds of snow it churned up but, nonetheless, it shows the ingenuity of Billy Young in devising a way to transport supplies and equipment during the winter months.
Between 1916 and 1925, three dams were constructed to enlarge natural lakes and flood meadows for hydropower, enlarging Waugh, Gem, and Agnew lakes in the eastern Sierra county. Other images show pipelines, plants, trunk lines, and machinery.
Promoting Perfume at the 1915 Panama Pacific International Exposition, San Francisco.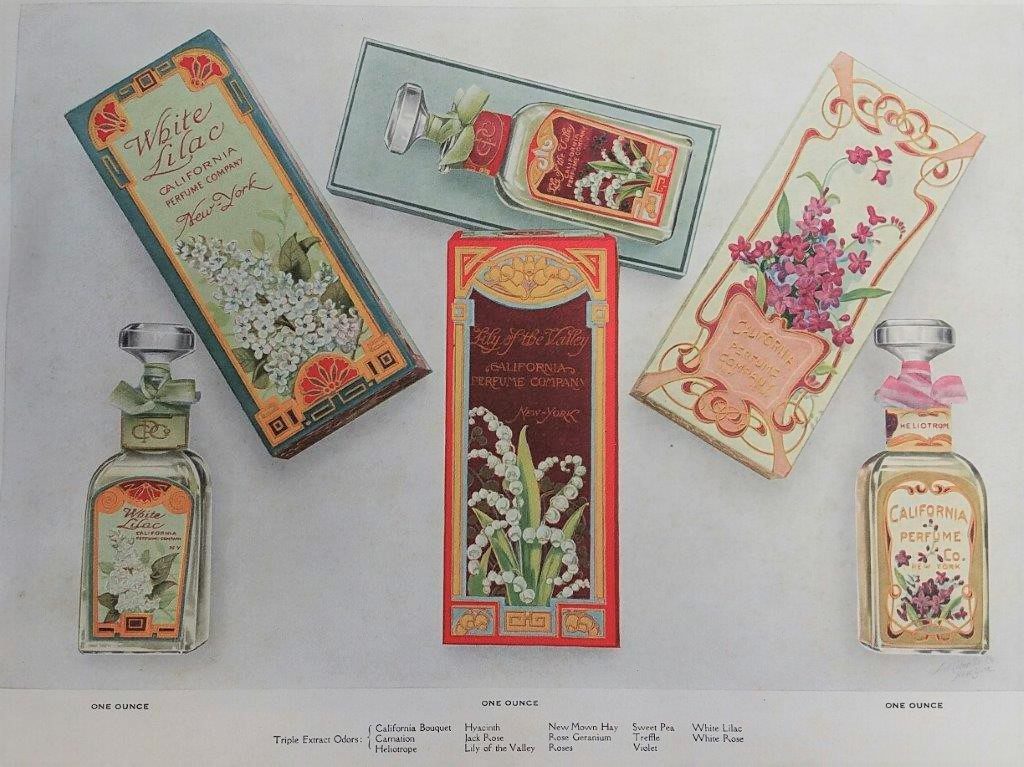 The State Library's special collection makes available for research an extensive collection of commercial trade catalogs that were published to promote a company's products like perfume, plumbing fixtures, hardware, clothing, furniture, and jewelry. The latest addition is a first edition of a sumptuous color chromolithograph catalog premiered by the famed California Perfume Company — predecessor to Avon — at the Panama-Pacific Exposition (PPIE) in 1915. These large color plate catalogs for their salesmen met with huge success, even though they were very expensive to produce. The gorgeous plates illustrated beautiful art nouveau-inspired bottles, packages, and advertising for perfumes, soaps, shampoos, cold creams, talcum powders, tooth paste, gift sets, and more. Originally released with 40 color plates in 1915, the plates only illustrated the separate products, and the price list and index were printed on the last page of the catalog. The perfume company obviously impressed PPIE officials and they were awarded a gold medal for the quality of their products and for artistic design. The library also has California Perfume Company catalogs from the 1920s.