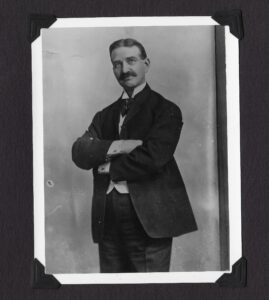 "Ozcot" was the name of the Hollywood residence at Magnolia and Rose streets, in which L. Frank Baum, author of the children's book The Wonderful Wizard of Oz (1900), lived from 1911 – 1919. The book was later transformed into the now-iconic film The Wizard of Oz, released by MGM in 1939. Frank and his wife Maud (Gage) were both New York state natives. They lived in South Dakota and Chicago before migrating to Hollywood in 1910. Maud Baum was the intelligent, headstrong daughter of suffragist Matilda Joslyn Gage. Frank Baum wrote his seminal work about Dorothy and the "Emerald City" while living in Chicago. Baum spent the rest of his life living in Hollywood, writing many more children's books, short stories, and poems, some of which he penned under female pseudonyms. In 1914 he formed the The Oz Film Manufacturing Company with the support of Hollywood luminaries Louis F. Gottschalk, Will Rogers, Hal Roach, Harold Lloyd and Darryl Zanuck. In its very short existence, (the company folded after one year), the studio produced The Patchwork Girl, The Last Egyptian, and The Magic Cloak, films based on some of Baum's earlier books. Baum continued to write until he died at home on May 6 after suffering a stroke.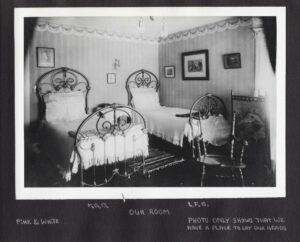 The album appears to have been put together by a young Justin Schiller, an avid collector of rare Baumiana, and a founding member of The International Wizard of Oz club at the tender age of thirteen. After serving as the club's secretary from 1957 to 1962, he presented the album to his friend and successor, Fred Meyer. Schiller later went on to become America's preeminent antiquarian children's book dealer. The Bibliographical Society of America offers a prize in his name each year to encourage scholarship in the bibliography of historical children's books.
It is not known how Schiller acquired the photos of the Baum residence, but it appears he copied the descriptions from an earlier Baum photo album. The album includes different views of the house's interior and exterior, the garden, and two photos of L. Frank Baum. Carefully handwritten captions in silver ink reference "Kenneth's room," one of Frank and Maud's four sons, as well as "our room" and "the foothills and the San Fernando Mountains from our balcony." The final, uncredited photo shows the demolition of the house sometime soon after Maud's death in 1953. It was cleared to make way for an apartment building. One photo, captioned "The Man with the Rake" shows an industrious Baum at work in the family's garden.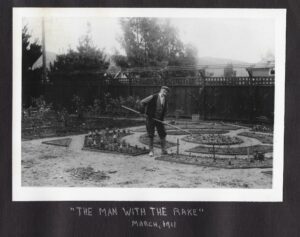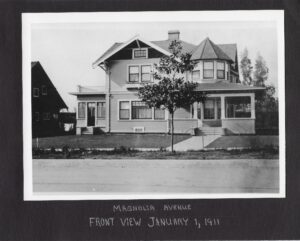 The Foundation acquired the Ozcot Photograph Album on behalf of the California State Library's California History Section.
Sources:
Abrams, Dennis; Zimmer, Kyle (2010). L. Frank Baum. New York: Infobase Publishing. ISBN 1-60413-501-8.
Hearn, Michael Patrick. The Annotated Wizard of Oz: The Wonderful Wizard of Oz, New York: Clarkson N. Potter, 1973.
http://ozclub.org/oz-timeline/1911-1919-other-ventures-and-back-to-oz/
https://bibsocamer.org/awards/justin-g-shiller-prize/