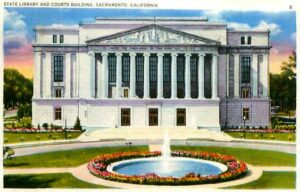 "The most important asset of any library goes home at night — The Library Staff."

Timothy Healy

During the month of May the California State Library Foundation will be hosting an online fundraiser to help support and promote Staff Development at the California State Library.
While the State Library and its services continue to be funded by the state and federal government, competition for funds has become keen in recent years. Like all public institutions today, the State Library must look beyond tax revenue to accomplish its objectives. To that end, the California State Library Foundation was established in 1982, providing private support for the State Library's programs and goals. The Foundation is a 501 (c) (3) nonprofit, public charity governed by an independent Board of Directors. 
The Staff Development Fund provides funding to State Library staff for professional growth and development through participation in continuing education courses, professional conferences, seminars, workshops, or workskills training. Staff development is designed to further the goals and objectives of the State Library. The $10,000 raised in this campaign will help multiple staff members over the next several years expand their professional growth and help expand the goals of the State Library. 
To Help Support or Contribute Please Visit and Share the Following Link: